News
Halal ethanol sanitizer TAKEX CLEAN
TAKEX CLEAN is an ethanol based disinfecting agent containing extracts obtained from bamboo sheaths - Phyllostachys Pubescens, as the active ingredients.
TAKEX CLEAN is made using food grade materials and is also certified HALAL since 2016 by the Department of Islamic Development Malaysia (JAKIM) which is known to be one of the most stringent accreditation bodies for Halal.
There are two range of TAKEX CLEAN variants, which are TAKEX CLEAN and TAKEX CLEAN EXTRA, which have different percentage of ethanol content but still with the same effectiveness.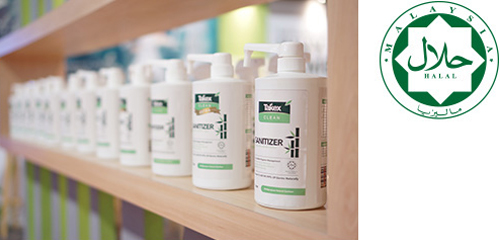 TAKEX CLEAN is Food-safe and human friendly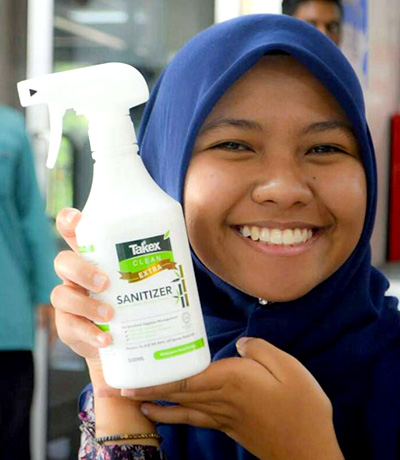 Through many years of research we have created safe for human and food sanitizing products for our products range.
With strategic collaborations and developments in Malaysia, our products are now Halal certified by the Department of Islamic Development Malaysia (JAKIM).
JAKIM accreditation is considered one of the most stringent organization and the JAKIM Halal is widely recognized globally especially in the Islamic countries across the world.
Continuous need for halal ethanol disinfectants for food sanitations in the future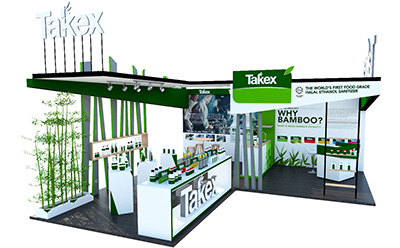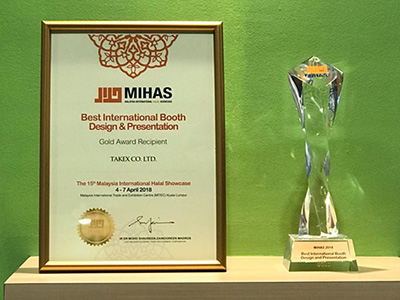 Won the best booth award at MIHAS
As you know, TAKEXCO Malaysia runs a booth at MIHAS. And guess what? We won "Best International Booth Design & Presentation" award!! There are some awards which participating companies are awarded.
During MIHAS, we got lots of visitors who interested in our products and booth, and the happi coat which all our stuffs were wearing attracted attention. Besides, I think warm space using wood, bamboo which is feature of our products, and atmosphere which makes visitors feel being at a cafe are also evaluated.
With the developments of new emerging markets complying with global hygiene standards, there is a continuous increase in hygiene awareness and managements.
This is consistent with the increase of populations in developing countries as well as economic growth throughout the Asian region.
Our products will be the driving factor that promotes to the developments of food safety and hygiene managements throughout the world.
Recommended use
TAKEX CLEAN is a disinfecting agent which have antimicrobial and antiviral effects. It is very effective against viruses such as norovirus or influenza, and can be used anywhere such as food factories, restaurants, schools, hospitals, public facilities and many more.
Food plant

Eateries

Central Kitchen

hospital / school
Why Bamboo?
Bamboo has been associated with Japanese clothing, food and building materials. Most of the relationship between bamboo and the Japanese diet has been in the preservation of food. Bamboo skin, after shedding, is used to wrap rise balls or meat. Bamboo sushi, Bamboo leaf-shaped kamaboko(steamed fish paste)and Japanese sweets also uses bamboo to improve food storage life traditionally.
TAKEX studied parts of bamboo containing the most active ingredients for food preservation and discovered it is mostly in the green epidermis.Bamboo grows 20 meters in 2 months during the growth period. This fast growth is enabled by the intense nutrition contained in the white fiber inside. This nutrition consists of components that are perishable, easily oxidised and causes mold immediately. The green epidermis protects this fiber from bacteria, mold, fungus and rot.